Our Mission
Each week our resident Astrologer, Mr. E. or a Weekly Guest Astrologer, will look into the crystal ball, check the alignment of the stars, the moons & the planets and inform you what it means and how it affects YOU.

We believe everyone deserves the right to understand the future. We will deliver as much information in as direct and creative a way as we possibly can, but please be advised that everything we say and read is subject to interpretation and, as always, think before you act!
Our History
AudioAstrology is brought to you by the friendly folks at A Dot in the Shark Productions "a multimedia mini-conglomerate". We've been providing audio horoscopes to the public since 1996, but this is our first foray into creating an on-demand Internet audio website.

We recently moved our Headquarters to Saturn and hope that this new perspective will provide our users with a fresh way of understanding and anticipating the future. Remember, "The future is as close as your Ears." Thanks!

DJ Mr. E
AudioAstrologer



Who We Are
MC AudioAstrology reads and writes the Horoscopes on this website. He also moonlights as a DJ specializing in "Boombastic Beats and Party Mixes" and is currently seeking gigs near
Latitude: 40 39' 00" N
Longitude: 73 57' 00" W
Tell your friends "The Future is as Close as Your Ears."
DJ Mr. E, Aquarius, is an accomplished musician, artist, filmmaker, astrologer, radio programmer and painter. His science fiction radio documentary film "The Spider Inside Me" has screened in a number of cities around the US and is currently available for viewing on request. He has produced several CDs including "MicroRadio Starter Kit: Uninvited Mr. E plays," "HighlifeHighlights," "History (or Myth)" & the forthcoming "Mr. E - Live @ Sh*tstock '99"-recorded live @ Woodstock'99.
DJ Mander is from Mars, though recently he's been caught between the Moon and New York City. His formative years were spent Deep in the Heart of Texas where he honed his social, artistic and binary skills. He has recently been doodling many of the interesting icons which populate this website and his own non-sequitor.com.

Ms. R.E., Capricorn, is known throughout the Universe as the "Voice of Planet Pluto". She has been creating invisibly radioactive electromagenetic programs for a number of eons and her earliest recordings were recently discovered on radio station KO.OP in Austin, TX (USA, Planet Earth) and surrounding environs. These readings were received from the RX-Satellite 107 feed and were completed about twenty-seven light years ago. Ms. R.E. is AWOL and was last seen heading towards a Black Hole.

David Kay, Aries, is the CEO/COO of A Dot in the Shark Productions "a multimedia mini-conglomerate" and created this website. He is an award-winning videomaker,filmmaker, musician, radio producer, cartoonist, writer, calendar maker & storyteller. Well, maybe he has not won many awards, but he is a nice guy. He has released 15 CDs including interviews with Marcel Marceau, and various music compilations. He is currently working on a new nonlinear entertainment medium-- strictly for the people.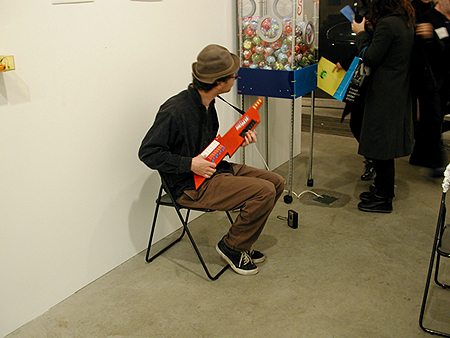 DJ Mr. E in action at a Simulsite convention
Click Picture to Hear Mr. E & his Hot-Keyz Live at Woodstock '99